A tent (r)evolution
The traditional 'Bedouin' tent evokes images of camels, desert, and pilgrimages. This earliest fabric protection has been reinvented with modern materials. A traditional tent is fabricated from a woven textile to limit deformation due to stretch. Our stretch tents transform what was considered a material flaw into a structural and aesthetic asset.
Today's typical event tent uses a flat PVC coated woven polyester textile draped over a steel frame. The frame stands alone, in compression as the essence of the structure. The flat fabric panels are mounted on the steel frame and pulled tight to remain flat in the wind. But, that's an impossible task because they are flat so the fabric flutters in a mild wind.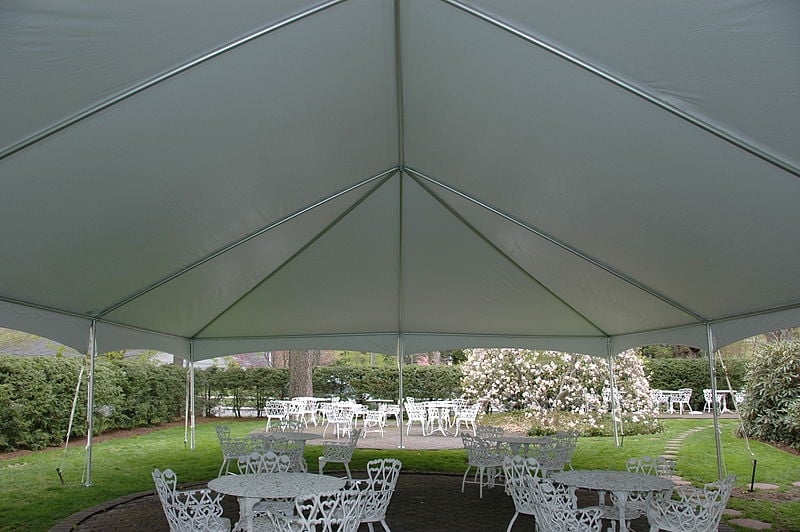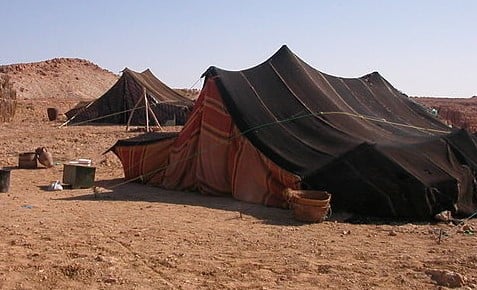 In contrast, the tensile structure is stabilized with tension rather than a compressive steel frame.  One popular design uses large masts to lift the fabric, with tension forces pulling in opposite directions to draw the tent into form.
Think of the Denver Airport. The masts are the compressive elements. Teflon coated fiberglass woven fabric and cables are the tension elements which enable the canopy to cover broad expanses.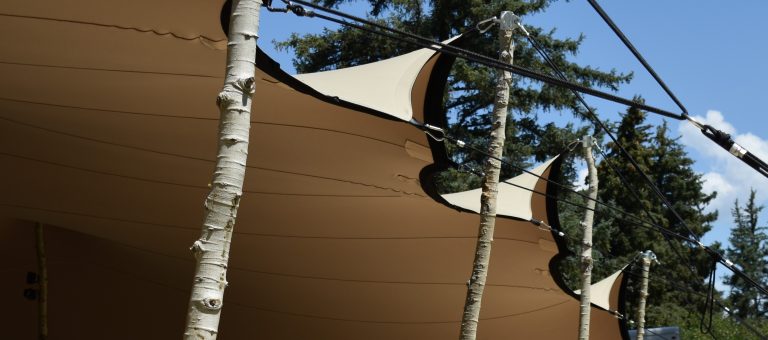 A smaller tensile structure is typically built from fabric woven with polyester thread. The flat fabric is patterned and joined into a shape defined by anticlastic curvature. The final form is set by the tension of the outer cables. The final product is stunning, but singular in application. Frei Otto's  Tanzbrunnen from 1957 is a classic.
Instead of weaving, Tentrix uses a circular knit with high tensile strength polyester thread. By doing this, we create just enough stretch in the fabric for the structure to be pulled into shape under tension. Critical difference –  woven fabric may be destroyed if tensioned with a force for which it wasn't designed.
It's hard to detect the stretch with a small fabric sample. However, the effect on a pitched tent becomes evident as riggers apply tension. What begins as a flat panel is pulled into shape in the last stage of the pitch. Riggers apply tension to create the final form and the anticlastic curves that strengthen the stretch tent pitch (see our Gallery of Stretch Tent Pitches).
The Company
South Africa is to stretch tents as the fertile crescent is to civilization. A few decades ago, inspired by the Bedouin tents of Northern Africa and fueled by the innovative spirit endemic to Southern Africa, intrepid inventors improved an ancient art.
They adopted cutting edge fabric innovations and transformed the tenting industry of a continent. We lived in South Africa for six years as these stretch tents grew in popularity. They just fit with the culture and climate – quite literally tailor made for the environment.
Colorado Stretch Tents
We brought the stretch tent with us back to Colorado. Then, we adapted as necessary to fit the Rocky Mountain climate.  We've been growing ever since with tent rentals, sales and custom development. Today we serve a growing loyal customer base and a market awakening to the superior technology of stretch tents.
We love playing a role in the Colorado outdoor ethos. We're thankful to our many South African friends who pioneered this technology in Africa & beyond. We're also heavily indebted to them so we'll stay true to the sweeping lines and robust engineering that define the stretch tent tradition.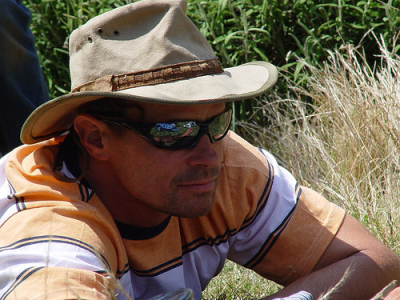 Prone toward minimalism. Tension trumps compression. Structure is beauty. Nature is beauty.
Favorite designer – Antoni Gaudi – "The straight line belongs to Man. The curved line belongs to God"
Favorite founder – John Quincy Adams – "Nip the shoots of arbitrary power in the bud, is the only maxim which can ever preserve the liberties of any people."
Quotable – "Passion is a choice"
Obsta Principiis
Tentrix is AMAZING!!! They did the tents/tables for our outdoor Colorado wedding a few weeks ago. Everyone was so easy to work with. Very friendly, professional, efficient and an absolute delight to have a part of our special day. Jenna and Aaron are so great! We loved working with them.

Bethany D.

Happy Bride
"We want to thank you from the bottom of our hearts. The tent was amazing and we got tons of compliments. It was the most perfect way to create the elegant atmosphere and fabulous ambiance we were looking for. It exceeded our expectations!"

Brandy L.

Happy Bride
We used a Tentrix tent at a community event. It was a very windy day and the Tentrix tent provided great shelter – incredibly sturdy.

Toni M.

School Administrator
Aaron!! You F***ing nailed it!! That is so F***ing on the money!

Parker

Happy DJ